Vein Disorder in Legs
Expert Specialists For All Your Vein Treatment Needs
Are you tired of always having to cover up your legs due to unsightly spider veins and varicose veins? You are not alone. 50% of American women and men suffer from some form of vein disorder. Each year over 1 million people undergo surgery for their vein problems.
Mississippi Vein Institute is an outpatient center that specializes exclusively in the diagnosis and minimally invasive treatment of venous disorders.
Mississippi Vein Institute was founded in July 2008 by Dr. Manning to create a center of excellence for the treatment of varicose veins, spider veins, and venous ulcerations.
We have now performed over 20,000 endovenous laser procedures to treat varicose veins and venous ulcerations using the CoolTouch endovenous laser system.
That number of procedures places Mississippi Vein among the top vein clinics in the country and, as a result, CoolTouch has awarded Mississippi Vein a Center of Excellence designation.
Rediscover the legs you once knew.
Problematic leg veins cause physical symptoms but they also cause emotional symptoms as well. Whether it's avoiding wearing shorts or skirts or missing a pool party or a beach trip, a person's quality of life can be severely affected.
At Mississippi Vein Institute, Dr. Adams and myself specialize in the treatment of problematic leg veins using the most advanced techniques and technologies available. There is simply no reason to suffer the pain and embarrassment of problematic leg veins any longer.
3 COMMON DISORDERS & TREATMENTs
Venous insufficiency is a condition where the return of blood through the veins is impeded, causing blood to pool in the legs.
Below are common vein disorders that we treat here at Mississippi Vein Disorders Clinic.
Sclerotherapy
We use foam sclerotherapy to clear spider veins. We are able to clear 60 to 70% of the existing spider vein burden with each session. Both legs are treated (front and back) during a sclerotherapy session. 
CoolTouch Laser System
We use the CoolTouch endovenous laser to treat the underlying cause of varicose veins. The varicose veins themselves are then removed through micro-incisions that leave little to no mark on the skin.
CoolTouch Laser System
We use the CoolTouch endovenous laser to treat the underlying cause of the ulceration. Most ulcers heal within 6 to 8 weeks of treatment.
Vein Disorder Treatment
in Madison & Jackson MS
See below to learn about we treat the most common vein issues.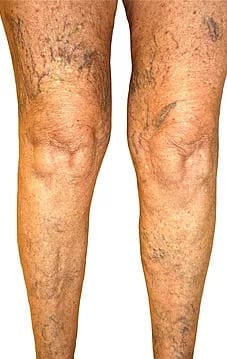 All new patients under go a lower extremity venous ultrasound to rule out venous reflux as the underlying cause of their complaints. Sclerotherapy for spider veins in the setting of significant underlying venous reflux will not be effective. Foam sclerotherapy is the gold standard for the treatment of spider veins. Most patients who have spider veins alone (without associated varicose veins) do not have underlying venous reflux and can be simply treated with sclerotherapy. But, an ultrasound exam is the only way to know for certain.
Sclerotherapy works by causing an inflammatory reaction in the spider vein that eventually leads to fibrosis and closure of the vein. Do not be surprised when the injected veins actually look worse during the first few days after the sclerotherapy session. This is a result of the inflammatory reaction and is to be expected. You may also notice small areas of clot (dark blood) within the injected veins. This is not the type of blood clot that can be life threatening and it should resolve on its own with time. Should the clotted vein cause any discomfort, we will make a small pin prick in the skin overlying the clot and express it from the vein. The discomfort should then quickly resolve.
Some spider veins are more resistant to sclerotherapy than others. We will adjust the concentration (power) of the sclerotherapy agents depending on the success of the previous sclerotherapy session.
The areas of concern are photographed. The sclerotherapy injections are done using a very small 30 guage needle. Most patients tolerate the injections fine but, for those who don't, sedation is available. A driver is necessary if sedation is used. The area to be injected is cleaned thoroughly with alcohol. We use a piece of equipment called a Vein Light to guide our injections. The Vein Light allows us to see the larger reticular veins which are often feeding the spider vein clusters. Injections placed directly into these "feeder" veins, when present, are essential to effectively treat spider veins at the skin surface.
We use a combination of tetradecyl sulfate and glycerin as our primary sclerotherapy agent. The combination of the two agents is quite effective and results in much less pain upon injection when compared to other sclerotherapy agents. It is not unusual to experience a red whelp at the injection sites, much like a fire ant bite. The whelp usually lasts for a few hours and is not something to worry about. Bruising is also acommon occurence following a sclerotherapy session. The bruising typically clears in one to two weeks. We have Arnicare for purchase in the clinic which will help limit the amount of bruising.
The question most commonly asked is "How many sclerotherapy sessions will I need". The answer depends on the severity of the spider veins. We are usually able to clear 60 to 70% of an existing spider vein burden with each treatment. Most patients undergo 2 to 3 sclerotherapy sessions spaced 1 month apart to get optimum results. The thing to realize is that each sclerotherapy session builds upon the results of the previous session. The spider veins that we successfully eliminate will not recur but mores pider veins may show up in a different area as the years go by. Most patients stop by every year or two for a maintenance sclerotherapy session to keep their legs in top shape.
Patients are fitted with thigh high compression hose that they wear for 5 days following the sclerothrapy session. We have the hose for purchase in our clinic or you may bring your own if you have them. Just make sure that they are thigh high grade 2 compression hose. Compression hose are an essential component of successful sclerotherapy. They dramatically increase the number of spider veins that can be cleared with each sclerotherapy session. They do this by compressing the walls of the spider veins together which helps them to sclerose and disappear. The hose may be removed to shower and sleep. If you are able to sleep in the hose, do so. The take home message is that more time in the compression hose is better when it comes to clearing as many of the spider veins as possible per session. Hot baths are discouraged for the first week after sclerotherapy injections. Soaking in a hot bath dilates the veins and makes it harder for the sclerosing agent to close the spider veins. Otherwise, resumption of normal activity is encouraged immediately following sclerotherapy.